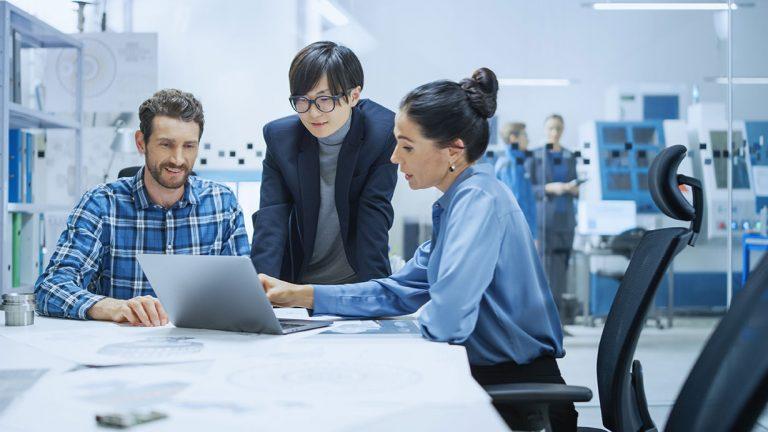 Innovation is crucial for any organization to compete, but many R&D teams have blinders on pursuing only technical innovation – and not necessarily making major advancements. R&D leaders put constraints on their organization's competitive advantage by neglecting to innovate organizationally and culturally. Here are five trends that we've seen in companies that are thriving by innovating more broadly.
1 – Balancing Technical, Leadership, and Management Abilities
It's natural for engineers who get promoted into leadership roles to stay focused on the enjoyable technical aspects of their jobs. The abundance of technical challenges also seems to justify the need. Organizations can function this way when managers are focused on financial and organizational details under the direction of good leadership. Unfortunately, good leadership is rare, and gaps lead to organizational chaos hindering communication and efficiency.
​An important trend in healthier cultures is movement toward greater team autonomy, which requires leaders on those teams to develop a balance of abilities for leading autonomously. That balance is a mix of technical, leadership, and management ability, including the aptitude to guide a team culture of self-management. Agile methods are often core to successful autonomous teams as their operating process, with an effective agile mechanism helping to facilitate self-management with good leadership paving the way. A formula that often works well is when project managers and technical leads develop strength in leading and managing; and when the engineers develop agile project management skills that complement their technical focus. Agile methods make the self-management aspect easy for engineers once they gain some experience.
2 – Successful R&D Teams are Focused
Though the constant pressure to "do more with less" might have gone too far in some companies, the general concept is good in terms of continuous improvement. Every organization should strive to increase efficiency at all times. Where too many managers get it wrong is by trying to do too much in parallel with resources spread thin rather than with more focused priorities. This happens at both the organizational and project level in many businesses and is a major contributor to inefficiency and perceived chaos.
​Highly focused organizations enable team members to manage their work effectively with clear, manageable priorities, often resulting in high morale and engagement. At the organizational level, it starts with discipline to articulate clear business priorities with a realistic understanding of the capacity to ensure focus on what matters most. Individual projects need similar discipline in terms of what's most valuable to customers.
​A leading company in the computer industry recently shifted from inefficiently managing dozens of "top-priority" features to focusing on four to five prioritized customer decision factors. These clear priorities guide the implementation of related features appropriately, resulting in higher-value products. The clarity allows teams to make faster and better tradeoff decisions, which is a major aspect helping them achieve faster time-to-market.
​Agile methods can help to ensure focus with the right high-level priorities and strong facilitation. When executed well, agile processes relentlessly prioritize starting with a clear vision driving focused iterations (such as SAFe Program Increments or MAHD IPAC Iterations), and those iterative priorities drive sprint planning with teams and individuals all on the same page. With a well-running agile mechanism, timelines for completion are well-managed using iteration cycles to learn and adapt to necessary changes efficiently. Well-informed tradeoff decisions can be made quickly based on iteration outcomes.
3 – Tools Matter
With good people, the right strategy, a great culture and effective processes, organizations can make just about any tools work for managing R&D teams and projects. The challenge is purposefully leveraging each available tool's strengths. A typical scenario is teams that are "going agile" use Jira or a similar tool to manage their backlog and sprints but are not using another, more suitable tool for managing cross-discipline dependencies and the overall project schedule – so the overall project isn't managed well. Perhaps worse is when project managers have a traditional detailed Gantt Chart which attempts to manage the overall project, but teams are only focused short-term using their agile tool for sprints and the Gantt Chart detail is disconnected from what the teams are actually doing.
​Another common situation is when teams exclusively use some form of whiteboard and sticky note approach with so much information it makes it hard to manage and comprehend. The big picture gets lost in the details and the backlog is cumbersome compared to managing in a tool like Jira or Excel.
​In our work with teams adopting agile methods for hardware, a combination of two primary tools typically works well after a period of experimentation, so we see this as a successful trend. That combination uses a visual tool for managing the overall project and major dependencies such as a whiteboard, graphics tool, or even Excel or MS Project (can work well for agile teams with an agile rather than waterfall mindset), and task-oriented details managed in a tool like Jira or Excel. The key to making a combination of tools work is an effective leader facilitating the collaboration and communication that can't occur within unconnected tools.
4 – Invest Wisely in Leadership Development
According to Training Industry Magazine, over US$ 350 billion is spent every year globally on leadership training and consistently increases year-after-year. Yet data provided by McKinsey shows the vast majority of leadership programs fail to deliver the desired results. There are basically three options for making use of this data:
Waste money on ineffective leadership development
Don't invest in developing leaders
Invest in leadership development wisely
Many companies follow the path with ineffective programs if they have a budget and no inspiration to change without meaningful measures for effectiveness. Ineffective investment isn't giving them a competitive advantage – in fact it's a detriment due to the waste. Of course, option 2 doesn't lead to a competitive advantage either, leaving smart investment as the sensible choice. Investing wisely for every company's leadership development needs is outside our realm of expertise, but there are a few important factors to consider for technical leaders that we know from experience:
Leadership training needs to be logical. Engineers are trained to think logically, and need to quickly see how new information applies to their work. Leadership is a broad topic with important, but "touchy-feely" aspects like human relationships and emotions. General approaches to interpersonal concerns without relevant context and an implementation path engineers can visualize will be ineffective, and can even give them a bad perception about leadership.
Relevant context should relate to their real-world work environments. Examples, case studies, role play exercises and other learning methods will likely fall flat with engineers if they don't believe the examples represent their day-to-day challenges.
Instructor credibility makes a difference. Ironically, the need to build trust and respect are leadership fundamentals that every leadership instructor should understand, yet many who are teaching leadership don't have the background and experience to gain immediate credibility with their audience. Instructors who have similar experience and who can really relate to the audience will have a credibility advantage over those who don't.
5 – Get on Board the Agile Bus
Slowly, but surely, more and more teams are moving toward agile practices for physical products with reasons ranging from corporate mandates to "go agile," to specific benefits needed right away. Adoption rate for software teams was slow at first so it's no surprise hardware team adoption is also slow. Unfortunately, hardware teams have additional obstacles such as stakeholders who don't believe agile will ever work for hardware, and misguidance due to internal knowledge only of agile methods that work specifically for software.
​A disturbing, recent trend that is slowing agile implementation is more and more dogma being pushed on teams, which only adds confusion, not real value. The main reasons for this negative trend are so trainers and coaches can sell more services, and in some cases to justify their existence. Our advice is to ignore the dogma and focus on the benefits your teams desire. Chances are that agile methods tailored for your needs will lead to those benefits.
​Two main reasons why agile methods are generally superior for product development:
The world is chaotic, with many factors affecting projects and creating the need to adapt to change. Changing product requirements, resources, budgets, project priorities, manufacturing needs, and supply chain concerns are just some of the reasons teams need to constantly adapt and adjust. Agile, when done well, is a more efficient mechanism for adapting than traditional NPD practices.
The vast majority of software teams have adopted agile with no reason to change except for ongoing refinement and eliminating any unnecessary dogma. Hardware teams need an agile way of working in order to have a unified HW/SW process. The MAHD Framework, for example, is designed as a common framework for multi-disciplined teams developing mechanics, electronics, software, and all aspects needed for manufactured products.
About the Author
Gary Hinkle is founder and principal consultant at Auxilium, a company dedicated since 2002 to helping product development organizations develop leaders, improve processes, build stronger cultures, and increase overall R&D performance. You can contact Gary directly here.
The Agile Manifesto was written for software development and the 12 principles need adjustment for other applications. Auxilium distills them down to eight key principles for the development of manufactured products: Customer and stakeholder satisfaction is best achieved by incorporating their feedback from demonstrable output on a frequent cadence. Bureaucracy impedes agility. Enable autonomous teams […]

In working with hundreds of companies for over two decades, we've encountered several common themes where improvement is needed to avoid delays and achieve faster development. The obvious factors for increased speed are scope reduction and additional resources. The latter is rarely viable, and to be effective, resources need to be available early enough in […]

The concept of agile project management is not new, but until recently has been utilized mainly for software development. Scrum is the specific agile way-of-working used by most software teams, which involves incremental development by teams working typically in 2-week sprints. The output of each sprint is working software with added functionality. Engineers involved in […]